Audiobook Companion Documents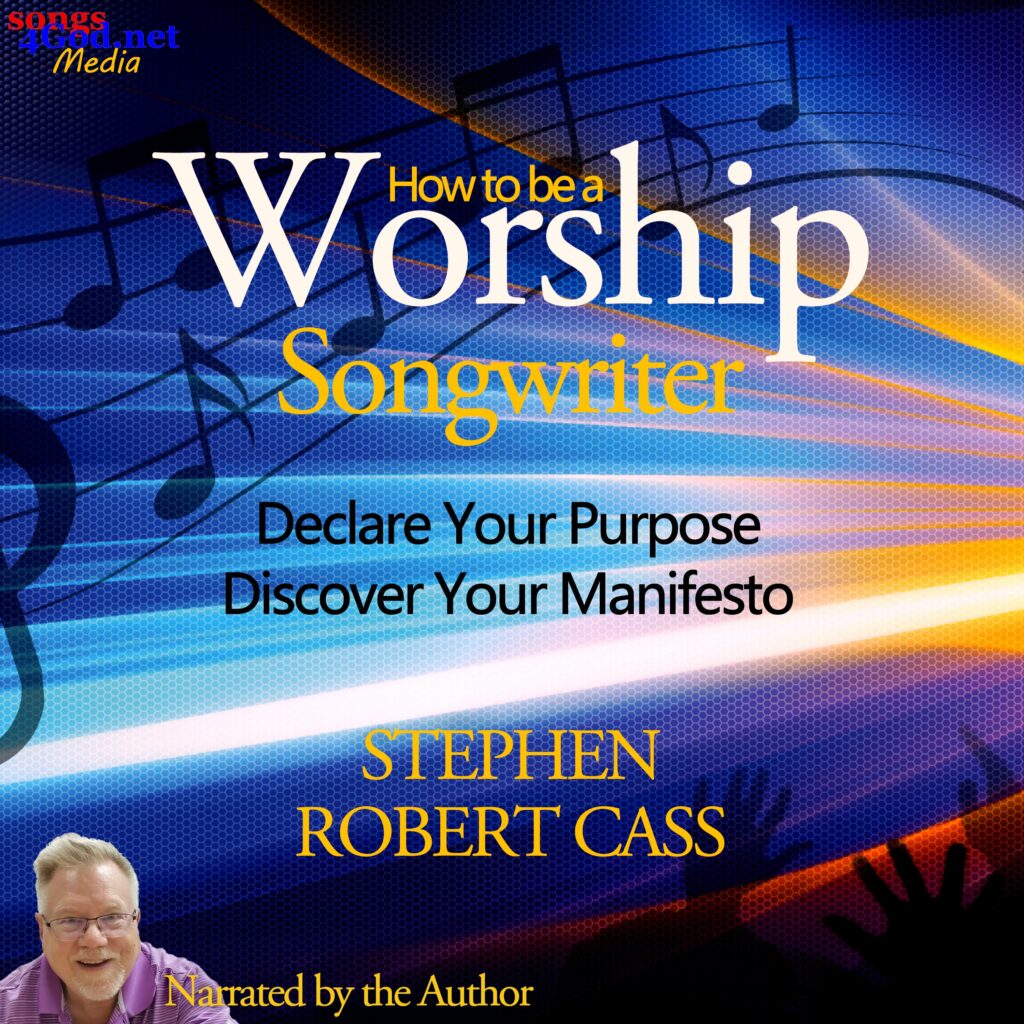 Declare your purpose and discover your manifesto.
Are you ready to find your songwriting direction?
Are you ready to get your songs published?
This book is for anyone, young or old, who hears the call from God to write songs. I will help you discover and declare your purpose in songwriting and show you a path forward.
A congregational songwriting plan, and a 2023 Christian Indie Award finalist.
Do you have the dream of honoring God and hearing your songs sung in local churches?
Would you like a well-defined process to help make that a reality? Join Stephen Robert Cass as he shines a light on the pathway of ministry and song success showing you the value of congregational songwriting
How churches stay legal and how songwriters get paid, and also a 2023 Christian Indie Award finalist.
Church leadership:
Are you aware that only 42.4% of churches in North America are paying song copyright holders for their work?
Do you know why church music licenses exist, who collects these fees and distributes the money?
Did you know that a new small claims court was established in 2022 for copyright infringement cases with a maximum award of $30,000?
Worship songwriters:
Do you know how the use of your original songs are reported by the churches?
Do you know how to copyright your songs?
Are you aware of how to register your songs so you can get paid for them, whether they're used in church or elsewhere?
Listen to an interview with the author about the book: 
https://stephenrobertcass.com/worshipsongsandthelaw_spotify_interview.
For Christian artists, songwriters, and church sound mixers.
Do you feel like there's no way you'll mix a song demo as good as (insert name here)? Are you struggling to understand how to make the worship band sound better? Do you want to start being confident with your mixes?
These 5 Keys, plus a bonus giving an immediate mix strategy (that only thrives in light of the 5 Keys), will inform and prepare you, instilling the confidence you need to manage a multi-track recording or a live band.
This book is a primer to instill confidence in the church sound mixing volunteer, the songwriter mixing song demos, and the live audio mixer. This book goes beyond basics to show the audio engineer how to create their own mixing philosophy.
How to build a worship team.
Everyone on the platform is a lead worshiper.
The face of your church. In my 50 plus years as a worship team member and my experiences as a worship leader, songwriter and church planter explore my blueprint of how music ministries can blossom on a solid foundation.
You don't want perfect people. Search for people willing to sacrifice and serve and are willing to give 110% to lead the congregation to the foot of the cross.
Excellence in worship is attitude and focus.
Shouldn't we try to understand what people desire when they come to church? Shouldn't all eyes on the platform see an invitation to seek the face of God? Connect with people using song crafting and technology to enhance their experience.